Peach Cake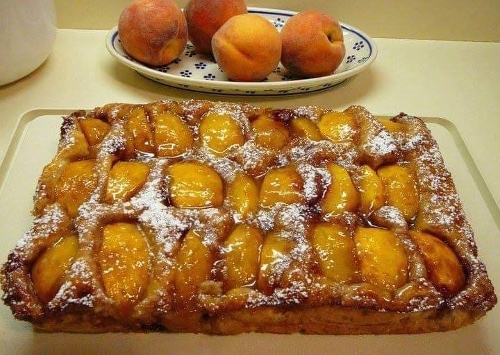 Delicious Peach Cake Submitted by one of our Great Customers Michelle Steininger
1 3/4 cups of white flour
1/4 cup of sugar
1/2 teaspoon of salt
1 package of dry yeast
2 tablespoons of butter
1/2 cup of hot water
1 egg
1/4 cup of Raspberry Jam
About 5 freshly sliced Peaches
Peach or Apricot Jam - Optional
Powdered Sugar - Opitional
1. In a large bowl combine 1/2 cup of flour, sugar, salt, and yeast. Add butter and beat for a few seconds on medium speed.
2. Gradually add hot water and beat for 2 minutes on medium speed (make sure to scrape the sides of bowl). Add 1 egg and another 1/2 cup of flour, beat for 2 minutes on high speed and scrape the bowl.
3. Mix in the remaing flour, mixing until smooth and elastic. Roll into a ball, let rest for 5 minutes , spread into the bottom and sides of a cookie sheet or 9x13 pan. Let rise until double in volume which should take about 1 hour. While waiting peel and slice the peaches.
4. Once the dough is ready press it down a little and spread the raspberry Jam on. Assemble the sliced peaches on top of the dough and sprinkle with 1/2 cup of sugar. The top can be glszed with a little melted peach or apricot jam if desired.
5. Bake at 350 degrees until the dough is done and the edges have browned, about 25 minutes. If desired sprinkle with powdered sugar.