French Toast w/ Maple Basil Syrup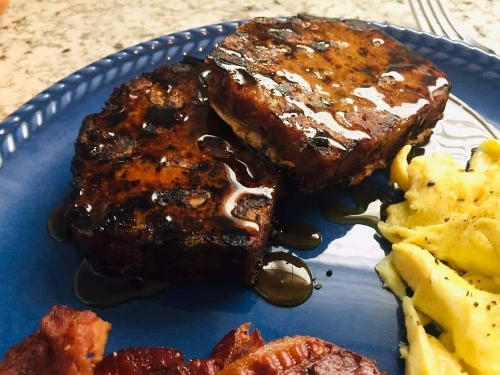 2 C. Maple Syrup
½ C. Fresh Basil Leaves
Mix Maple Syrup and Basil in a pan
In the saucepan, bring syrup & basil to a simmer. Remove from heat and let it steep while you make French Toast.
French Toast:
1 ½ C. Heavy Cream
¼ C. Sugar
¼ tsp. Vanilla
6 Eggs
Loaf of Twin Oak Farms Zucchini Bread cut into 6 thick slices
4 TBSP Butter
Confectioner Sugar (to taste)
Beat together cream, sugar, vanilla, & eggs. Soak bread (30 seconds on each side). Melt butter in a pan, brown on both sides until caramelized. Remove and sprinkle with confectioner sugar. Strain out basil leaves from syrup and serve warm with French Toast. Reheat syrup if needed.
Submitted by Michelle Steininger